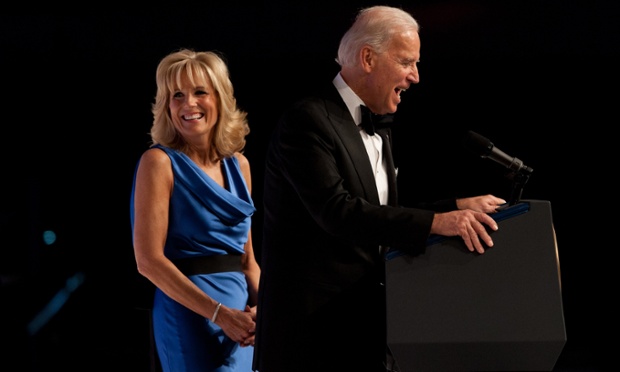 There are quite enough images of the Obamas around today so here's the next First Couple. (In Joe's head.) Jill looks lovely, does she not?
I feel a bit like a grinch at the party for saying so but I wasn't as impressed as most of the press were by Obama's speech yesterday.
Yes, it was a statement of unabashed liberalism, which reflected the
scale of his achievement
and the extent to which key liberal goals - racial equality, equality for gays - are finally being met. Yes, it made the case for government in a way that Clinton wouldn't have dared. Its boldness, such as it was (and it was too soapy and vague to be called brave), was impressive.
But other than that, what did he really say? He said that government has had a big role to play in America's greatness. Well, OK, but actually, aside from Tea Partiers and the NRA, that's not necessarily a statement with which most Americans would disagree. More importantly, the speech didn't give Americans a vision of the future. It didn't show them the way ahead, as Lincoln did in his second inaugural. In fact it perpetuated the illusion that government can carry on pretty much as it is.
I said it's a speech that Clinton wouldn't have dared make but actually, his declaration that "
the era of big government is over
" was braver than anything Obama said yesterday. It played against expectations; Democrats aren't supposed to say that sort of thing. It also hinted at a truth that Obama either hasn't faced up to or isn't prepared to ask voters to face up to: America's government can't afford to sustain its obligations in their current form.
America has a massive, rising welfare bill, an ageing population, and a perilously high pile of debt. Not to mention a defence budget designed for a more imperial era. One way or another, whether it's via a Capitol Hill induced car crash or a planned unwinding, the government that did such an effective job of sustaining and spreading the benefits of America's post-war dynamism has to change - to get smaller, nimbler, and more efficient.
If Obama had made the case for government, and then warned that government needs to be reinvented, and that this will mean tough and sometimes painful choices, then that really would have been bold. It would also have been true.