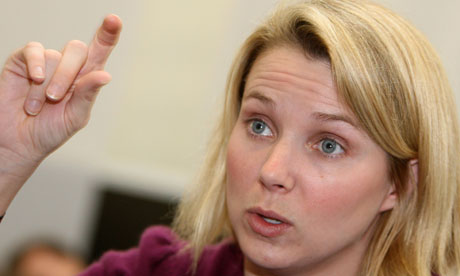 Photograph: Oliver Lang/AFP/Getty Images
The news that Marissa Mayer has been hired as CEO of Yahoo is exciting for a number of reasons. First, she's a high-profile, charismatic figure who will inject some much needed dynamism into a moribund brand. Second, she's a woman and there aren't enough of those running big companies, especially in the tech sector. Third, and relatedly, she's pregnant, which indicates a far-sighted approach on the part of Yahoo's board (and perhaps a dab of desperation - they are lucky to land her).
Having said that, I think she'll fail to make much of an impact on this youthful dinosaur. I have a Yahoo email account, having signed up for one not long after the birth of email, when dinosaurs ruled the earth. That means I spend quite a lot of time with Yahoo - albeit as little as I can these days. Over the years I've seen its pages and services degenerate from simple and useful to grotesquely over-complicated, ugly, and low-rent. Its email is full of useless 'social' features that nobody uses and serve only to annoy and confuse. The amount of clutter is epic. Any idiot - even me - can see how awful it is. Yet nothing is done about it.
Yahoo's interface is the manifestation of a company that clearly has too many product people and mid-level marketeers pushing their own pet projects, with nobody responsible for the whole - for the overall user experience. That's why this worries me:
"Yahoo finally has someone who has both business acumen and geek cred at the helm," said Chris Sacca, a venture capitalist, who previously worked with Ms. Mayer at Google. "She stands for a work hard/play hard, product- and engineering-driven culture, and Yahoo has been missing that for years."
Well I'm no expert, but I suspect that 'geek cred' is not the most important thing Yahoo has been missing. It doesn't need more of an engineering-driven culture; it needs a user-driven culture. (As for business acumen, there's no evidence that Mayer has that - she's an engineer and a great spokesperson, but hasn't been implementing Google's business strategy.)
What Yahoo has been missing is a Steve Jobs figure: someone who focuses relentlessly on what the people who use the company's products actually experience. Someone with enough hinterland to understand that most people don't think like engineers, and who has enough conviction to say "no" to the geeks.
UPDATE: OK, maybe - misled by that VC quote - I got Mayer wrong. Here's the excellent Farhad Manjoo:
Mayer's most prominent role [at Google] was as the czar of the firm's user experience—for most of the company's history, decisions regarding Google's Web design flowed through her... At Yahoo, Mayer won't be able to rely on data to come up with the next big thing. But that gets to her big strength: More than any other tech executive, she is an enthusiastic, shameless consumer, the sort of person who can easily identify with what regular people, not software engineers or media execs, want from the Web. When you ask other Googlers to talk about her strengths, you'll always hear some version of, "Marissa is the voice of the user." That's a perspective that Yahoo has long been missing.
Having said that I tend to agree with Manjoo that whatever her strengths, Yahoo will prove impossible to turn around.