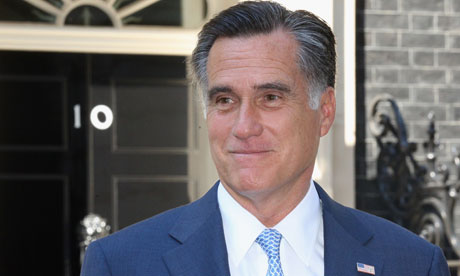 Douchebag. Photo: Oli Scarff/Getty
Mitt Romney just isn't cut out for politics. I can only think that when he gave that interview to Brian Williams he had totally forgotten he was a candidate for president and imagined he was just a guy who ran an Olympic event once (though as David Cameron pointed out rather tartly yesterday, that one was in the middle of nowhere, and thus something of a doddle compared to ours). Still, the sheer, tin-eared, granite-eared level of insensitivity you need to say something like that at this moment...extraordinary. But that's Mittens. There will be plenty more of his malfunctions to look forward to this election season.
From the point of view of Seb Coe and co., Romney's foot-shot was perfectly timed. Suddenly, our poor indigenous moaners had all the air sucked away from them. Nobody wants to be associated with an American's criticism. (It reminded me of the last-minute boost to British support for the Iraq war created by France's stubborn opposition to it). Nothing brings the British together more than a foreigner doing what only we're allowed to do: have a moan about Britain.
Romney did, however, give Boris Johnson some ammunition to fire over the crowd at Hyde Park, who loved every second of the mayor's barnstorming speech. That was quite something in itself. Big aryan hair, a rabble-rousing speech, burning torches, chanting, and some rather good jokes. It was a very English version of Nuremberg.