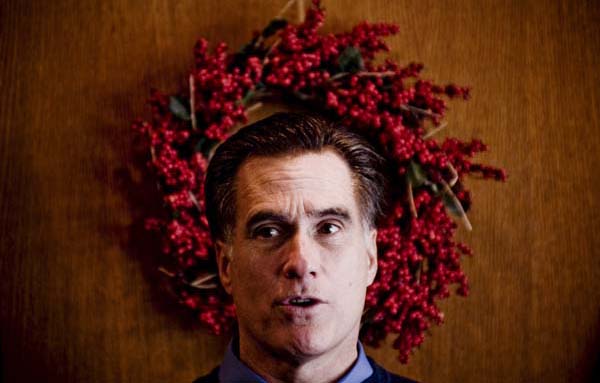 Michael Czerwonka/EPA
The Republican nomination race is in a dire state. None of its candidates seem capable of uniting the party. Inevitably, then, there is a lively strain of speculation on whether, if this uncertainty and discontent persists, a white knight from the right will enter the race during the Spring, or even ride into the convention and be nominated by acclaim. The names coming up include Jeb Bush, Chris Christie, Marco Rubio, Mitch Daniels, Paul Ryan, Sarah Palin (that last being considered a possibility only by Sarah Palin). It's tremendous fun, this, and heaven knows I don't like to stamp on fun, but I'm afraid it's not going to happen. The nominee will almost certainly be one of the existing candidates, and very probably Mitt Romney. Dull but true.
First of all, there are pesky technical hurdles to late entrants, like filing deadlines, the kind of thing many media commentators dismiss as mere detail, but which - as Hillary Clinton found out in 2008 - matter.
Second, such scenarios involve Mitt gracefully stepping aside and agreeing to back the new man. Hmm. So after four years of planning, travelling, spending, fundraising, speaking, debating, coiffuring, fake grinning, self-abasing; after being smacked in the face again and again by his own party and returning doggedly to the fray each time; after winning more endorsements and (probably) more primaries than anyone else - Mitt is going to say, "OK, guys, gave it my best shot. Time for someone else to have a go." Really?
Third, the white knight candidate has to take a massive gamble. Two massive gambles, actually. First, he would have to be really confident that the red sea will part - that Republican voters would acclaim him en masse rather than revolt against his perceived arrogance. A rejection would be humiliating, and quite possibly career-ending. Second, he also has to be confident of victory against Obama in November. If Obama's approval ratings were still in the doldrums, the prospect might be more enticing. But right now, they're heading up, buoyed by what appears to be an economic recovery.
I think any white knights with presidential ambitions will be happy to let Mitt take the battle to Obama. 2016 is starting to look like a much more attractive contest.