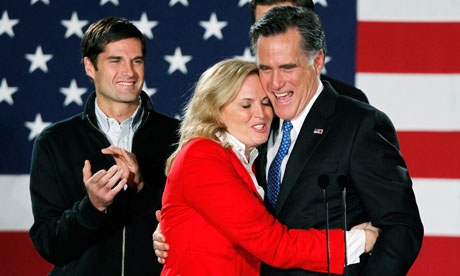 Photograph: Rick Wilking/Reuters
Mitt Romney, after winning first actual vote of the primary season, has knocked out or badly wounded all of his viable rivals (if any of them can truly be said to have earned that adjective). He now looks almost certain to be the Republican nominee, if only by default.
This has been the most likely outcome for quite a while, but despite this, the New York Times reports that Obama still hasn't figured out how to take on Romney in the general:
The bigger conundrum for the Obama campaign is how to balance its two lines of criticism of Mr. Romney, particularly if he wins the nomination.
Do they go the out-of-touch, protector-of-Wall-Street route or the flip-flopper route?
The third option, as adumbrated and advocated by Kevin Drum, is to paint Romney as a "rightwing nutcase" in hoc to a party gripped by extremism.
To me, it seems obvious that the best route is 'flip-flopper', and I'd be surprised if the Obama campaign doesn't use it as its central line of attack. Let me explain why.
As I've remarked before, the most important component of any successful political attack strategy is truth; attacks work when they identify and build on something about an opponent that voters already sense to be true. The "right-wing nutcase" strategy doesn't pass that test. Romney has been very careful not to let himself be pulled too far right, in substance, during the primaries. More importantly, he just doesn't come across as a zealous or ideological character. Indeed, his problem is at the opposite end of the scale.
The wealthy/out-of-touch framing is closer to the truth, and I am sure it will form one line of attack. But if it's too prominent, it risks making Romney seem like a Big Guy; the entrepreneurial, ruthless alpha male of the race.
The flip-flop charge, however, is both true, and likely to be very effective. The fact is, Romney has very publicly changed his mind on several big issues over the years, and has left some great footage behind in his wake. 'Flip-flop' doesn't quite cover it. It's not simply that he changes his mind (as the NYT says, that might be interpreted by the voters as sensible pragmatism); it's that each time he takes up a new position he communicates it with the same moist-eyed sincerity as he did the last one. In the end, this isn't about intellectual inconsistency, it's about character - and that, rather than policy, is what a presidential contest is all about.
When combined with his awkward, robo-pol manner, self-basting hair and lack of the common touch, Romney's history of shape-shifting makes him seem hopelessly inauthentic: an archetypal politician in an age when everyone hates politicians. I think the Obama campaign will hammer away at this theme relentlessly - and I think it will work.
To follow this blog - and me - on Twitter, click here.