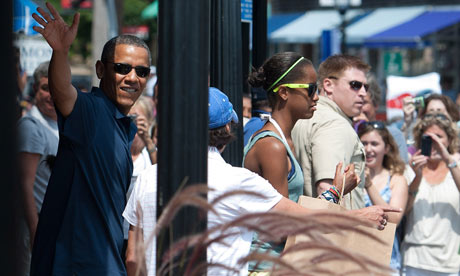 Barack Obama waves to the crowd after he and his daughter Sasha leave the Bunch of Grapes Book Store on Martha's Vineyard. Photograph: Getty Images
I'm off to France for a bit. Back w/c September 5th. Cameron and Obama publish their reading lists; I feel it only proper that I follow suit. Here are the books I'm taking with me (in cumbersome, heavy, loveable print format):
Andrew Roberts, The Storm of War
I may take Tender Is The Night with me as well, and perhaps I'll pick up something at the airport.
I'd be happy to get through half of these. But I'm looking forward to opening all of them.