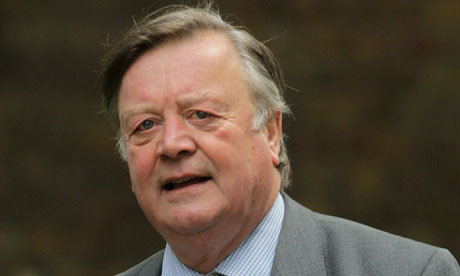 You know it is sometimes very pleasant to take offense, isn't it? A man may know that nobody has insulted him, but that he has invented the insult for himself, has lied and exaggerated to make it picturesque, has caught at a word and made a mountain out of a molehill — he knows that himself, yet he will be the first to take offense, and will revel in his resentment till he feels great pleasure in it, and so pass to genuine vindictiveness.
Fyodor Dostoyevsky - The Brothers Karamazov
In the Observer today Rachel Cooke writes brilliantly about the synthetic outrage generated by Ken Clarke affair this week. In her opening paragraphs she neatly retells the story of what actually happened in a way that reminds us just what a very small molehill this was. She then notes something about the tenor of the response:
I listened to those who said they were offended by Clarke's comments and I read their columns, too, and what I picked up was, in the main, not shock or upset, but a delicious kind of delight. Even as they wrung their hands you could feel them tapping their toes. When Ed Miliband stood up in the House of Commons and demanded that Clarke be sacked – this is the same Ed Miliband who, last October, told the Labour party conference that he would support Clarke in his quest to reform our creaking penal system – there was something so unconvincing and hammy about his performance that I laughed out loud. Note to the Doncaster Civic theatre: your MP would be seriously good in panto.
Cooke is exactly right. These days, too many journalists and politicians behave like the people who leave comments on political blogs (not this one, of course): they turn up the rancour to eleven, accuse the object of their criticism of the worst possible motives, and shout about how offended they are (or how some other person or group is offended). 
Partly this is driven by the contemporary imperative to grab attention and share of clicks. But it's also, as Cooke identifies, a form of emotional gratification. We enjoy feeling offended (at least, we enjoy feeling this fake kind of offence; real offence, as Cooke says, isn't enjoyable at all). We love the feeling of being on the righteous side against some exaggerated enemy. And we keep coming back for another hit. So when offence-takers distort the facts and bend statements out of context and make no effort to see things from a perspective other than their own, it's partly because they're not thinking straight. They're under the influence of a tremendous moral rush.
Having said that, I've been impressed by some of the more considered and sober counter-reponses to that original firestorm, like that from Cooke and - most sober and affecting of all - Suzanne Moore.