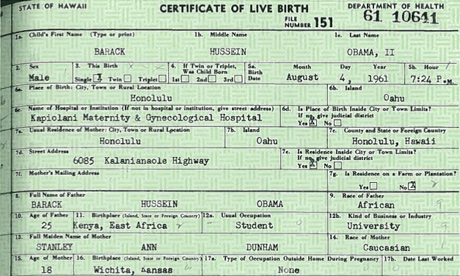 I'm glad Obama has decided not to release that photograph. As I said, it would be a mistake to imagine that anyone who believes that bin Laden wasn't killed by American forces on Sunday would be swayed by any evidence to the contrary. Some people just aren't open to reason; or rather, they will use reason as a way of confirming what they already believe.
This is a widespread habit, of course, and one we might notice in ourselves in other contexts. Whether it's relationships or politics or the workplace, we have a tendency to start off with we want and then reason backwards towards it; to cloak our true motivations or prejudices in the guise of reason. It's been shown again and again in studies that we have a very strong 'confirmation bias'; once we have an idea about the world we like (Obama is un-American, my girlfriend is cheating on me, the world is or isn't getting warmer) we pick up on evidence we think supports our hypothesis and ruthlessly disregard evidence that undermines it, even without realising we're doing so.
A new paper, written by a couple of evolutionary psychologists, has caused a big stir in the world of social sciences by proposing that such behaviours aren't distortions of our reasoning ability; they are why we have it in the first place. This is called "the argumentative theory of reasoning". One commentator on the paper neatly summarises its core proposition:
Reasoning was not designed to pursue the truth. Reasoning was designed by evolution to help us win arguments.
We tend to think of reason as an abstract, truth-seeking method that gets contaminated by our desires and motivations. But the paper argues it's the other way around - that reasoning is a non-violent weapon given to us by evolution to help us get our way. Its capacity to help us get to the truth about things is a by-product, albeit a hugely important one. In many ways, reasoning does as much to screw us up as it does to help us. The paper's authors, Dan Sperber and Hugo Mercier, put it like this:
The evidence reviewed here shows not only that reasoning falls quite short of reliably delivering rational beliefs and rational decisions. It may even be, in a variety of cases, detrimental to rationality. Reasoning can lead to poor outcomes, not because humans are bad at it, but because they systematically strive for arguments that justify their beliefs or their actions. This explains the confirmation bias, motivated reasoning, and reason-based choice, among other things.
Whether you agree with it or not, the paper represents an impressive and stylish example of reasoning itself. Its key move to is to reposition reason from a truth or reality-seeking method (how we like to think of it) to something that is, first and foremost, a communication tool - another product of our deeply social nature.
Link to paper.
Link to conversation with Mercier.
Link to Jonah Lehrer commentary.