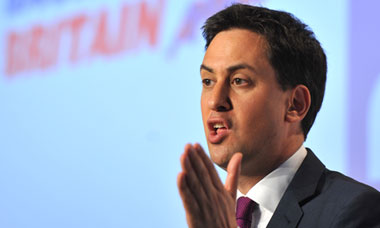 From a report on the Labour leader's speech on Saturday:
Contrasting his own vision of "better, optimistic politics" with that of the coalition, he said that all David Cameron was offering voters was "a shrivelled, pessimistic, austere view of the future".
From Miliband's speech today:
"I am worried — and every parent should be worried — about what will happen to our children in the coming decades."
It's hard to portray yourself as a sunny optimist when your speeches are full of foreboding and handwringing and talk of the Jilted Generation.
To be fair, it's always a tough challenge to be an optimist when you're the opposition leader near the beginning of a term and it's your job to persuade voters the country is going to hell in a handcart.
But Miliband's speeches seem to portray people as helpless victims of forces beyond their control: government cuts, unemployment, property prices, etc. Now of course this is true to an extent. But the best political leaders - the ones who do optimism well - give people back a sense of power. They applaud their aspiration and ambition. They don't do much handwringing. Neither do they claim that a government under their control would solve everything; they make voters feel that the party has got their back, rather than being on their back.
I don't think Ed Miliband has got this balance right yet. But then, frankly, I don't think he's saying much at all. He's still recycling the windy abstractions that got him through the leadership campaign. This, from his less-than-rousing peroration today, is how he defines his task:
A national mission which ensures Britain's next generation have a more optimistic future.
What does that mean? How does it define him and the direction of the party? (And why not 'better' future instead of 'more optimistic' future?)
Is that good enough after nearly a year of leadership?
Perhaps the best thing for Ed right now would be to take a long honeymoon, during which - on the beach, perhaps - he can do what he should have done before running for leader and work out what he wants to do with the leadership.
Then maybe, one day, he'll get to have his long-delayed political honeymoon.