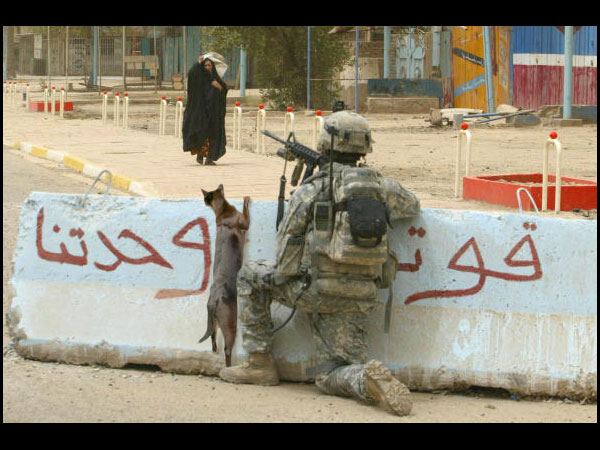 Sadly the above photo isn't real, but part of a Slate production, created in response to the news that the team which carried out the bin Laden operation consisted of 79 SEALS and one dog. (This brilliant account of the action reveals that the dog was called Cairo. Apparently, Cairo is furious about being outed and is concerned that he may now forever be a terrorist target).
OK, so unlike dogs, cats aren't widely used by the military. Yet according to the science writer Emily Anthes, there was a spy cat, once:
In the course of researching my book on animals and biotechnology, I discovered the strange tale of "Acoustic Kitty." In 1961, the CIA launched a covert operation by that name. The goal: to turn a tabby into an unwitting spy by wiring it up with electronic recording equipment. The idea was to release the cat near Soviet compounds and hope that the creature wandered onto windowsills or park benches or other places where it could record secret discussions.
Of course, to be an effective spy, the cat couldn't have wires winding all over its fur. And so, the experts decided that they'd have to hide the electronics inside. In a series of what must have been gruesome operations, officials slit open an unfortunate feline and slipped a microphone, an antenna, and a set of batteries inside.
When the cat was ready for its first official test, the agents released the tabby near a Soviet meeting place in Washington, D.C. The cat immediately wandered into the road, where he was promptly squashed by a taxi. 
Whoops.
(More here)