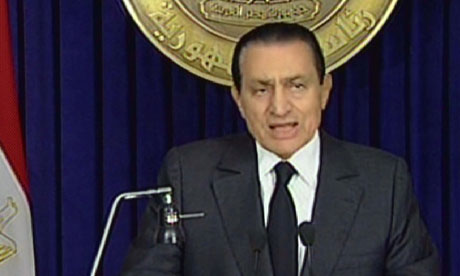 Elliot Abrams is a retired U.S diplomat who worked for Reagan and Bush Jr. He obviously has his own particular perspective on things but I'd urge you to read his post (from a couple of days ago) on Egypt and the White House's handling of the situation. It's tough on Obama but is well-argued and telling. He criticises the government for its shifting, uncertain response to events. But his main charge is that Obama is missing the perfect opportunity to put his generous rhetorical gifts in the service of real change ('Change'):
The larger problem is the lack of commitment and passion.  The presidential statements have been those of Obama the academic, the cool analyst.  Last Sunday he said "Here's what we know: is that Egypt is not going to go back to what it was. The Egyptian people want freedom. They want free and fair elections. They want a representative government. They want a responsive government. And so, what we've said is: you have to start a transition now. Mubarak has already decided he's not running for re-election again. His term is up this year. And what we've said is: let's make sure that you get all the groups together in Egypt, let Egyptian people make a determination on what's the process for an orderly transition, but one that is a meaningful transition." Not exactly inspirational. And when asked whether the Muslim Brotherhood might take over he lapsed into down-home folksy talk: "there are a whole bunch of secular folks in Egypt."  Thousands of those "secular folks" are risking their lives in Tahrir Square every day, but the President has yet to give them any sense that he, and America, are moved, excited, and admiring about their fight for freedom. Administration defenders point to a word here and a sentence there that show how hard the President and his staff are pressing the Egyptian regime.  They can show you the words, the lyrics.  Missing entirely is the music—the sense of passion, the message that we are inspired by the demonstrators and loathe stagnant dictatorships like the one that has ruled Egypt's people for decades.
This rings true to me. Yes, I can perfectly well see what Obama or his advisers might respond to this critique. They'd say, we shouldn't be telling other countries, other leaders how to conduct themselves; we shouldn't indulge ourselves in grandstanding; our job is to be cautiously pushing for reform and no more than that. But I think this is unimaginative. It displays a lack of - what's the word? - audacity.
Looked at through the eyes of the State Department or Obama's foreign policy advisers, this a dangerous, mine-strewn moment for American foreign policy (this is pretty much how professional diplomats see everything). Look at it another way and it's a once-in-a-generation opportunity to generate massive momentum behind the spread of democracy in the Middle East and to raise high America's reputation and influence in the world.
Mubarak's latest act of recalcitrance has opened the door for Obama to side with the protesters more directly, and his statement in response was more strongly worded than previous ones. I'm not sure that he will seize this moment though. Abrams quotes Natan Sharansky on what an inspiration it was for dissidents in the Soviet Union to hear Ronald Reagan talk about an 'evil empire'.  Obama is very clever and can see all the angles. Perhaps it takes somebody simplistic as Reagan to see the prize.