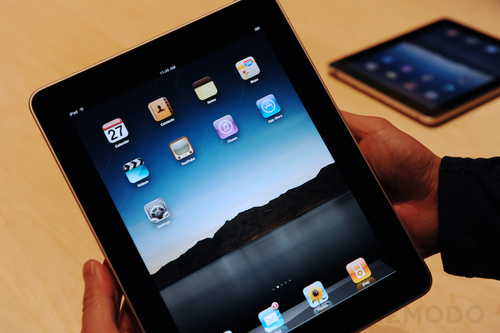 Over at Slate there's an interesting debate (generated by this article) about whether the iPad is a glorious lifechanging invention, or an overpriced functionless toy. Me, I'm still agnostic. I think it probably is overhyped and overpriced, and frustrating in its limitations, particularly when it comes to manipulating or creating content of any kind. But hmm it's so shiny and cute and nice to touch.
Anyway, I liked this response from a Slate reader:
I just don't need any more distracting toys anymore. In fact, what I need is the exact opposite. I need to be working, and when I'm at work, I need to feel busy and actually BE busy. When I'm not, I need to be outside, getting some fresh air, meeting with real people and having real conversations that are more demanding, or interacting meaningfully with my still young children. I need to cook and eat real dinners, at a table like in my kitchen or dining room, watch a little TV again without tuning out with my laptop and half paying attention and forgetting what I was even watching. If I go out to a restaurant, I don't want to check scores compulsively like a smoker waiting for that next cigarette break, and if I'm at a movie, I don't want to FB how good/bad it is WHILE I'm in the theater. Sheesh, what I really need to do is unplug and live a little (ok, a lot) more in the nondigital world. 

What I need is an antiPad.
Oh and here's Charlie Brooker on Macs and 'that syncing feeling':
Plug your old Apple iPhone into your new Apple Macbook for the first time, and because the two machines haven't been formally introduced, iTunes will babble about "syncing" one with the other. It claims it simply MUST delete everything from the old phone before putting any new stuff on it. Why? It won't tell you. It'll just cheerfully ask if you want to proceed, like an upbeat robot butler that can't understand why you're crying...
...They won't even give you a power lead long enough to use your phone while it's on charge, so if it rings you have to crawl around on your hands and knees, like a dog.