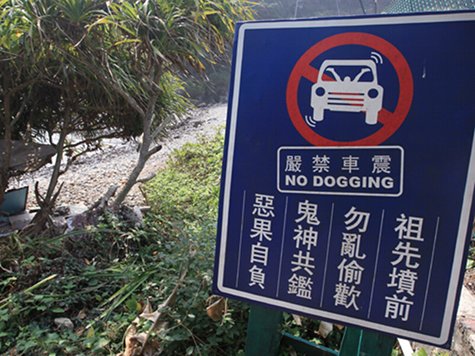 I love the visual device employed here; the juddering car and the splayed legs.
The sign is from 'a remote location' in Clear Water Bay in Hong Kong. It was brought to my attention by one of Language Log's erudite posters, who is new to the whole concept of 'dogging' and understandably bemused by it. Of course, if he'd read Sarah Lyall's excellent dispatch on this very subject, he would recognise dogging as a British cultural innovation - one which we're now, apparently, exporting.
I'm assuming the remote location is a cemetery, or that it's near one, because the sign (says LL) reads:
In front of the ancestors' graves,
Do not wildly steal pleasure;
Ghosts and spirits together witness,
The evil consequences will be born by yourself.
I suspect, however, that for the perpetrators, being watched - even (especially?) by ghosts and spirits - is very much part of the deal.
Via Language Log.