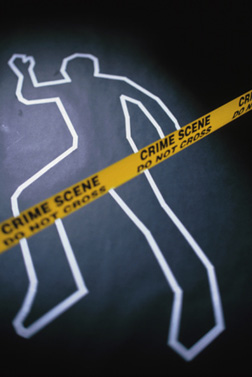 When a recession hits, there are a few 'counter-cyclical' industries that tend to thrive despite, or rather because of, a depressed economic environment. For example, loan sharks, guns, and - until this recession - crime.
When our economies slowed down and then went into reverse, experts in the US and in Britain predicted, reasonably enough, that crime rates, after a long period of decline, would see a sharp rise. This is what usually happens. But over the last two years, in both countries, crime has continued to fall. Nobody is quite sure why.
I haven't yet come across a piece on this from a British perspective, but in the meantime, the New Republic has a very good discussion of possible explanations for what's going on in the US, most of which are applicable here, including this one:
Richard Rosenfeld is a sociologist at the University of Missouri-St. Louis and was one of those experts predicting a recession-driven crime tsunami. He notes that the past two years have come as a total surprise, but wonders if there might be a more subtle explanation at play. Many of the earlier crime-ridden recessions, he points out, have been accompanied by healthy bouts of inflation. When prices are rising fast, the demand for black-market goods goes up, which increases the incentive to steal stuff that you can resell to underground street markets. So it might well be inflation that causes crime. These past two years, by contrast, we've been in a near-deflationary period. (It's worth noting that the Great Depression—another deflationary period—saw crime go way down, as well.)
There's another possible explanation over at Slate: the rise of electronic payments and the consequent decline in the cash economy:
Most violent crime is the result of one person trying to take another person's cash, whether it's an addict robbing a convenience store or one dealer robbing another, says Wright. If cash isn't available to steal, the opportunities to commit crimes dwindle. At the same time, the drug trade, which relies on cash at the ground level and drives a large portion of violent crime, withers. Sure, drug dealers can still transfer funds electronically, but only at high levels. Street dealers are unlikely to use credit card swipe machines anytime soon.
Slate's piece concludes by pointing out that the decline in street crime has been mirrored by a rise in white-collar offences involving sophisticated electronic hackery. In a final injustice, the rich have stolen crime from the poor.