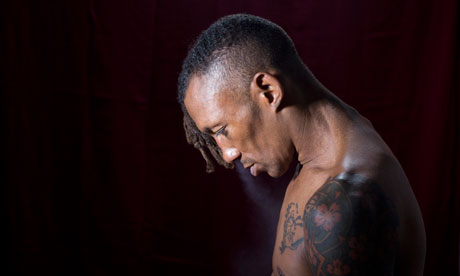 (Photo: Ed Alcock)
From an interview with Tricky, now resident in Paris after spending a few years in Los Angeles:

"The thing is," he says, "you have really got to be disciplined in LA. And I found that hard."
Tricky's idea of discipline is quite a loose one.
"For one thing," he says, "I started getting into the gun culture, shooting at galleries and in the desert and all that. One time I did this stupid thing of leaving a gun under my bed. It was an Uzi. The cleaner used to come to my house and bring her kids; unfortunately one kid found the gun and fired it when I was out. Luckily, I was in a restaurant because when the police came I could prove I'd been there and not fired the gun myself."
The problem was the bullets had gone through the walls of his apartment into the next-door neighbour's living room. "They weren't that happy about it," Tricky says and shakes his head, as if slightly put out by this reaction. "So what it comes down to: you've got to be disciplined there, you know what I mean?"
The interview is by Tim Adams, who does consistently good work for the Observer.