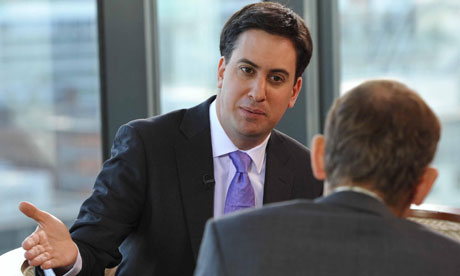 Jeff Overs/PA
Over the weekend, columnists have flocked to make the contrarian argument (now suddenly the conventional wisdom), that Ed Miliband will actually be quite a tough opponent for the Coalition. Benedict Brogan at the Telegraph, James Forsyth at the Spectator, and Mary-Ann Sieghart have written on this theme (the last two in particular are worth reading).
I find this view more convincing (though less entertaining) than its opposite, as expressed by Matthew D'Ancona ("You cannot be a cuddly woodland creature and a prime minister) and John Rentoul, who dubs Ed "the Panda...soft, cuddly and panders to every oppositional instinct in the party." I think the stuff about him winning because of the unions will be quickly forgotten if he does the job well and asserts his own identity. The "Red Ed" tag is silly. He's not a dogmatist, or utterly out of touch with political reality. Neither do I think he's necessarily incapable of making tough decisions and facing people down, although admittedly there's no evidence to go on here, other than that he took on his brother, which is not really a trick he can pull off more than once.
But I do think he's got a serious, possibly fatal weakness: he doesn't know what he wants to do with the leadership. In four months, he wasn't able to articulate a vision for the party, other than that it had no room for Peter Mandelson. He wasn't really able to distinguish himself from his brother, which is why the vote was so close - he had to rely on a bogus distinction (New vs Not-New Labour). One sign of this vagueness was his campaign's over-reliance on the word "values". To state the bleeding obvious, everyone has values. Tony Blair had his set of Labour values, and Tony Benn his. If you can't get beyond the repetition of that capacious noun, then you probably don't know why you're standing. Another sign is that in his first post-victory statements, he has leapt into the details of demography, identifying the "squeezed middle" as his target. He ought to leave that stuff to the pollsters; leaders should be articulating universal principles the whole country can believe in rather than - as Obama used to put it - slicing and dicing.
But then, Ed was formed by an environment that invited a focus on details rather than the big picture. He's a former SPAD. One reason the leadership debate was kind of uninspiring was that they were all former SPADS (all the serious ones anyway) and have all spent so long amongst the trees they've forgotten what the wood looks like. None of them had the distance from their party or from politics needed to reinvent either (can you imagine Tony Blair being a good SPAD? He'd have been fired within weeks). Secondly, he's a Brownite. Not in the tribal sense - he was one of the few members of Brown's camp to get on with those on both sides of that divide - but in the sense that he grew up, politically, amongst people who put an intense emphasis on political manoeuvring and policy detail without spending enough time asking, why are we here? What do we want power for? This was why, of course, Brown was so bad at being Prime Minister.
When you don't have a rock-like sense of what you want to do as a leader, you are more prone to being buffetted, pushed around and knocked sideways by events. Ed Miliband's problem isn't that he's got too much ideology; it's that he doesn't have enough of it.
(To follow this blog - and me - on Twitter click here.)