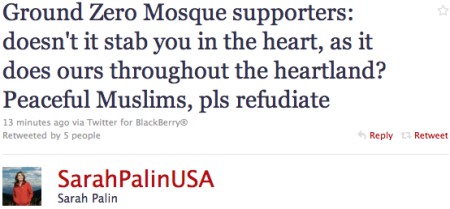 Sarah Palin's unwitting coinage in this Tweet has provoked some mirth in the liberal blogosphere, understandably (apparently she found the word in a fictionary). Obviously, it's not a big deal to make spelling errors in a Tweet or blog post (at least, I hape not) though she did use the same word when talking on her Fox Show the week before. She obviously had lodged in her head some combo of refute and repudiate; this in itself is interesting but not significant. But as Language Log's Mark Liberman points out, the fact that she was allowed to repeat the slip at all does tell us something about Palin and her relationships with those around her:
What's more serious, in my opinion, is that she didn't get set straight about the words in question by any of her advisors and friends, or for that matter by anyone at Fox. She was widely ridiculed for the error, at least in the blogosphere, and so you'd think that a functional staff would intervene to prevent future embarrassment.
The use of refudiate in today's tweet was also noted by bloggers, and was then removed within half an hour or so, showing that someone in her entourage is on the ball. But why didn't the first mistake get brought to her attention? This suggests that either her staff is not very efficient, or they're afraid to bring certain kinds of problems to her attention, or both.
(You can read more on the background to the Tweet here.)