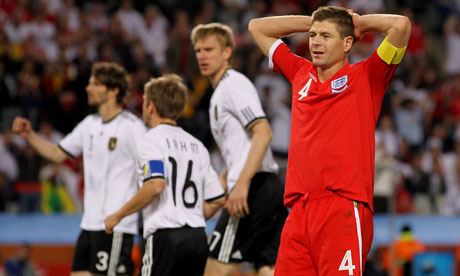 Scott Heavey/Action Images
Tim Harford takes this opportune moment to summarise a few key points from the book Why England Lose, by statisticians Stefan Szymanski and Simon Kuper:
- England do about as well as you'd expect, given their size, economic power, proximity to football's "core" in Western Europe, and footballing history. That is, you'd expect them to usually make the last 16, sometimes make the last 8, occasionally make the last 4 and make the final very rarely. And they do.
- Managers don't make much difference to a team's expected performance.

- There is no correlation between the qualifying performance (which in this particular campaign was outstanding) and the performance at the championship itself.
Looks pretty convincing today. Perhaps Capello was secretly working on behalf of this book's publicity campaign.
A psychologist might say that when it comes to football we have a persistent excess of positive illusions.