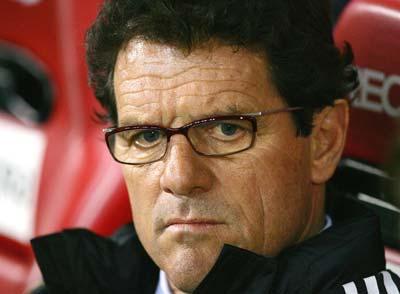 At last, a sports writer who doesn't automatically assume that because something precedes something it must have caused it. Here's Matthew Syed on the pundits who have suddenly decided that England needs to fire the manager:
When Fabio Capello took over as England manager, his most eye-catching initiative was to treat the players like schoolchildren. England then happened to win a succession of matches in qualification. The inference was inevitable. Treat England players like schoolchildren and they will win football matches. QED.
When things started to go wrong for England in South Africa, those who made the initial leap of logic found themselves leaping the other way, without seeming to notice the epistemological abyss they were hurdling. The "Joyless Regime that Sucked the Life out of England's World Cup" was a headline from a publication that had previously eulogised Capello's dictatorial style. Hindsight bias is a wonderful thing, of course, but do we really need to make a virtue of it?
The critics calling for Capello's head are stuck in a strange, recursive loop of self-deception. They're not stupid: they know that every time England lose, the manager is blamed and usually replaced with someone else who has all the opposite qualities (if foreign, choose English, if a "fighter", choose an intellectual, if friendly, choose disciplinarian, etc) and they know that this trick hasn't ever worked. They can even see how ridiculous this is. But somehow, they tell themselves, this time is different. This time, we just need to lose the Italian autocrat and choose an English bloke's bloke. That'll sort it out. There's remarkably little appetite on the part of these pundits for self-examination. They should at least ask themselves why it is they get everything so brilliantly right in hindsight and so wrong in foresight.
Capello has his flaws. But so do all available choices and we can't be sure enough that our disappointing form was his fault, tempting as it clearly is to assume so. We may as well stick with what we've got. After all, if your expectations are realistic, we're not even doing that badly.