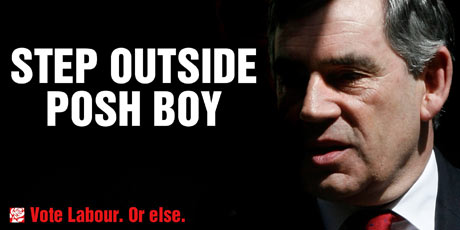 Seeing as it's past 12pm I might as well tell you that this poster, supposedly Labour's latest ad gambit in the election campaign, is actually the Guardian's April Fool. It's an unusually good one too. Not in the sense that it fooled people - information travels too fast for that these days - but in the amount of chatter and approving comment it's generated on the networks.
I think its success reveals a hidden truth about this election campaign - one that works in Gordon Brown's favour. The Prime Minister is very much the alpha male of this contest. Fairly or unfairly, his image is made more potent by its association with a deeply embedded cultural archetype: the dominant, tough and occasionally brutal elder man. His characteristics, including ones that are on the surface very unattractive, play to this type: dark haired, older, deep voiced, emotionally inept, physically and socially awkward, messily presented. Cameron provides a striking contrast: younger, soft-cheeked, rubber-faced, emotionally fluent but desexualised, almost child-like (Will Self refers to him as "the manbaby"). Brown is also, of course, in the job rather than challenging for it - he gets to wear the mantle of power.
Some of the initial twists of the pre-election narrative can be better understood through this lens. The fuss over Cameron's airbrushed poster was so great because it tapped into a sense that he was something less than a real man. When Brown's "bullying" was revealed, the polls showed his support strengthening rather than weakening.
This election isn't about much, in policy terms. It can be reduced to "do we cut everything now or a few months later?" Under these circumstances, cultural archetypes like this assume greater importance. 2010 isn't just about Labour vs Tories. It's man vs girly man.