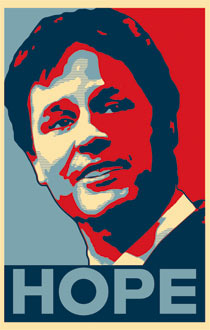 The most plausible explanation for the Lib Dem surge is that the voters have landed on a way of signalling how massively pissed-off they are with the whole political establishment. This dynamic, of course, is the same one that enabled Barack Obama to come out of nowhere and defeat Hillary Clinton in 2008. Chris Addison remarked on Andrew Marr's show yesterday that Clegg has a brief window in which he seems fresh and relatively untainted by politics. The British system doesn't allow for an Obama figure to come in from outside the system with the promise of change: in order to have a shot at real power you have to spend years in Westminster, and if you started as an agent of change, by the time you reach the top you're identified with the machine. I think this is right, but it begs the question, how is Clegg doing it? After all, as the Tories will be keen to point out, he's been hanging around Westminster and Brussels for a good while and leader of his party for three years.
To understand what's going on we need to pull apart the Clegg effect from the third party effect. Could this surge have happened under previous Lib Dem leaders? Well, I doubt that Ming Campbell would have wowed viewers with his energy and passion in a TV debate (Campbell's failure to make an impact with voters had much less to do with age or ageism than he or most commentators assumed. It's more that he was the epitome of the establishment stiff, good at the pantomime of authority but lacking vitality or ideas). Charles Kennedy and Paddy Ashdown are far more distinctive figures, and would have been stronger presences in a TV debate. But I doubt they would have pulled off a Clegg effect either. Their problem would be the opposite - they would have been too familiar to voters, because their profiles were much higher than Clegg's. Even if they performed well, there would be no surprise factor, and their appearance would have catalysed no excitement or heady momentum.
Nick Clegg has a combination of qualities that might have been custom-designed to achieve this well-timed surge. He has characteristics that play well on TV: energy and likeability, a certain classlessness, and an ability to speak human. But  - and here's the key - he's also quite bland. He doesn't have a Scottish accent or ginger hair or a military bearing. There's nothing memorable about him. So while he's spent the last three years putting together a reasonably credible policy platform, the public have ignored him (I swear there would have been quite a few voters watching last week's debate surprised to discover that Cameron and Clegg were two different people). It's as if he's been lying in camoflage, invisible to the voters, only to spring an ambush four weeks before election day.
Different political systems reward different strategies. If you want to be an agent of change in America, it's better to stand out from the beginning, as Obama did by virtue of his skin colour, his name, and his charisma - then prove you've got substance over the long haul of a primary campaign. But if you want to do the same thing in Britain, be bland, and blend into the background - then seize your moment at the last minute.
To follow this blog (and me) on Twitter click here.
(Pic: Steve Caplin/Guardian)