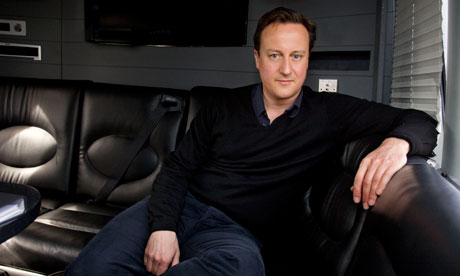 (Photograph: Observer/Karen Robinson)
What is it - just the smoothness of his skin? David Cameron has this uncanny, computer-generated  quality in photographs - he's like a Pixar politician. It's unfortunate, is all I'm saying.
Anyway, that's not my point. My point is, I'm starting to think that all those Cameron supporters who claim he's great under pressure (a view I've subscribed to myself) may want to reconsider. He is showing signs of panic. Today he conjured up a constitutional change from nowhere:
This morning, Cameron has suddenly launched a new idea: a proposal that, if the premiership changes between elections, an election has to be held within six months. That is very clearly targeted at Gordon Brown. It also flags up a Tory fear that Labour could ditch Brown for a new leader in order to facilitate a post-election coalition with the Lib Dems: "You could have someone as prime minister who wasn't even in the televised debates." His latest proposal would be a major rule change to Britain's democracy, which is, we remind him, parliamentary, not presidential. The policy features nowhere in the Tory manifesto.
So under this law, Churchill would have been forced to call an election in 1940. This is a policy that manages to be at once carelessly radical and hopelessly irrelevant. On the one hand, it's a pretty significant change to the way the country is run (and not very conservative at all); on the other, it doesn't address the underlying flaws of our electoral system. Whether it was dreamt up over cornflakes as Peter Mandelson suggests, or a cappuccino-fueled brainstorm with Steve Hilton the night before, it should never have seen the light of day.
Even if you like the idea, it's shockingly ill-disciplined to start throwing out new policies in the middle of an election campaign. At a time when the Tories need to be conveying calmness, strength of conviction and maturity, it makes them look shallow, jumpy and desperate for attention. Is Armando Ianucci writing Cameron's script?