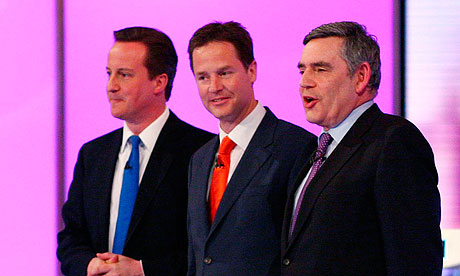 (Photo: Reuters)
After the giddiness of the first, and the excitement of the second, last night's debate felt like a bad third date, at which we suddenly became painfully aware of the other's affectations. Partly this was because we've got used to the leaders' debate mannerisms, which now seem cartoonish: Clegg's "shrug of exasperation at the old politics", Cameron's "pursed lips of authority", and Brown's wolfish grins, which appear at unexpected moments, as if triggered by passing planes. It was a little depressing, but then the theme was the economy, about which there is nothing undepressing to say.
What might have quickened the blood is if one of them had told the truth about how awful things are going to be; if Clegg had said, "I have to tell you, the next Prime Minister of this country would do well to spend their first week in an abattoir, learning how to make savage cuts" or if Brown had suddenly roared "I am Vishnu, destroyer of worlds". Instead, all three colluded in the pretence that by cutting down on next year's stationery order and cancelling the summer golf day, we ought to be able to muddle through this spot of bother. There was a dreamlike quality to it, which was enhanced by the BBC's choice of backdrop: a picture of Westminster refracted through a lava lamp. I thought for a moment that it might be sentient, and offering a silent commentary on the debate - purple when it was angry, pink when charmed. Whatever it was, it was unsettling (what on earth went on at the meeting where that was chosen? "These are changing times, times of uncertainty yeah? So the backdrop needs to reflect that.") The dreaminess was deepened by Dimbleby's impression of a mythical public school headmaster - peering over his glasses at the boys, and occasionally dropping off - and by the orange faces of the participants, which now and then would merge seamlessly into the backdrop.
Cameron performed at almost exactly the same level as he has done in the last two debates: not bad. He dared to be a little sharper - he had a good line about GB seemingly being unsure of which country he's presiding over. But he didn't really go for any top notes of passion or anger. He has played all three nights with a straight bat, pursuing, with considerable discipline, the classic strategy of a leader in the polls. He had a good outfit on, although his chin glistened, and occasionally, when he glanced at Dimbleby for permission to respond to a Brown salvo, he looked like he was summoning a waiter to deal with a troublesome beggar at his table.
Clegg, I thought, suffered most from the third date effect. His repeated lines about the "old politics" practiced by the other two seemed more like a shtick than before, delivered by a glib Dem. He got pounded by the other two to some effect over immigration, without managing the aggressive counter-punching he did on Trident last week. He waved his hands a lot, looked boyish, used a lot of Blairish tics ("Look...") and generally seemed less like a potential PM and more than ever like a trendy geography teacher (or as Ed Docx says in this month's Prospect, the winner of BA's short haul pilot of the year competition). He also wore a terrible, attention-seeking tie, which seemed determined to wrest the leadership of his party from under his nose.
When Brown began his opening monologue I thought this was going to be a terrible night for him. As we've seen over the last two years, if things aren't going well, he can't hide it. It's as if a light goes off inside. And last night he looked tired and beaten down. There was none of the smirk and pep he had in the first two debates. But somehow - I can only assume through a superhuman act of will - he dredged up the energy and conviction to deliver a strong performance. He was particularly good on the banks - the night he had to save them, and his anger at them, which chimed with the anger of voters. More impressive than anything he actually said was his display of an extraordinary, uncrushable will to go on, quite awesome to behold.
Not that it will do him any good. The die is cast, certainly for Brown. Not one voter will have changed their mind about voting for him, even if some of those who want him gone might admit to a lingering respect for him. Cameron won the instant polls last night not because he put in the strongest performance, but because people have decided he's going to win the election. I suspect that many voters, even if it is very reluctantly, will switch to him in the last week and I think the Tories will scrape out an overall majority. Then - or after the Queen's Speech - we'll wake up, and with the mother of all hangovers. 
To follow this blog (and me) on Twitter click here.