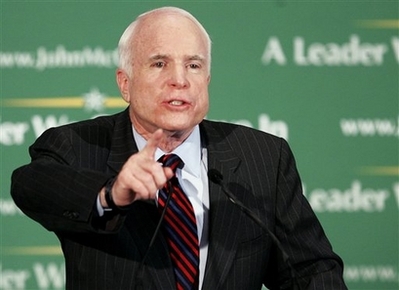 The McCain team decided to compete for airtime with Obama by having their candidate deliver a set-piece speech in New Orleans last night. McCain paid generous tribute to Hillary Clinton (he clearly hopes to peel away disaffected Clinton supporters to his camp) and gave a reasonably clear outline of his positions versus Barack Obama.
But overall, it was probably a mistake to go head-to-head like this. The contrast with Obama, at his best in set-piece speeches, was striking. McCain is simply not very good in these situations. He's compelling and persuasive when speaking off-the-cuff. But behind a podium he sounds stilted, and nervous. He stares too intently at the autocue. His face twitches into the approximation of a smile at unexpected moments. He has a poor grasp of cadence, his voice rising and falling in all the wrong places. He often sounds bored by himself.
And what the hell is with that horrible green background?