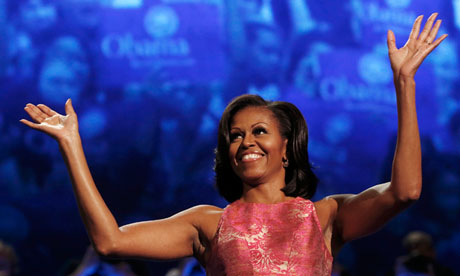 Photo: Eric Thayer/Reuters
There were many things to admire about Michelle Obama's address to the convention last night. She has become an astonishingly accomplished speaker, with near-perfect control of pace, pitch and tone. She moved effortlessly from one register to another, delivering jokes about domesticity, political argument and high-flown rhetoric with equal conviction. The speech itself was a little masterpiece; the personal weaving back and forth into the political, free of the clunky transitions that usually mar the genre. The narrative unspooled gently rather than wandering aimlessly or lurching from one topic to another. And of course, the whole thing was supercharged by those arms.
Most impressive, perhaps, was the subtle way in which Mrs Obama made the political case for her husband's reelection without seeming overtly partisan - and in particular, the way she sold Obamacare:
When it comes to the health of our families, Barack refused to listen to all those folks who told him to leave health reform for another day, another president.
He didn't care whether it was the easy thing to do politically – that's not how he was raised – he cared that it was the right thing to do.
He did it because he believes that here in America, our grandparents should be able to afford their medicine...our kids should be able to see a doctor when they're sick...and no one in this country should ever go broke because of an accident or illness.
Those few lines represent the best framing of the case for Obamacare, and for Obama, that I've heard, and they're certainly better than any of his efforts to date. They make a virtue out of the relative unpopularity of Obama's decision to pursue healthcare reform in the middle of a recession, presenting it as a decision of stubborn integrity, connected - via that deft parenthetical - to his personal history and values. In her version, Obamacare - to adapt one of the speech's best lines - is about revealing the best of America, rather than changing it.
If he is to top that, the president will need to bring his best game on Thursday night.