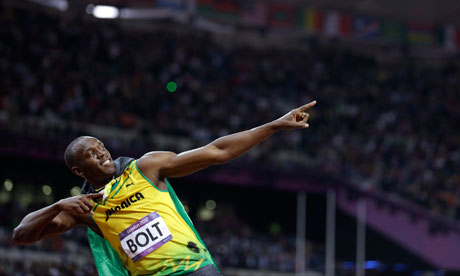 Photograph: Anja Niedringhaus/AP
As Boris Johnson pointed out last week, the Olympic Games are elitist. The athletes who get to compete in this tournament are there because they are the best in the world. The medals are awarded to the best of the best. Despite being Greek in origin, the Games are no place for democracy.
We don't mind this kind of elitism - in fact we celebrate it - because we know it's earned. We know that the athletes have fought their place to the top of the pile by virtue of relentless dedication and hard slog. Beneath the podium there is a vast underworld, peopled by cyclists up at 6am on Christmas Day to do their daily twenty miles; runners, far from their families, pounding mountain tracks alone; rowers repeating the same stroke over and over while their coach shouts at them and their muscles scream.
But there is another kind of elitism at work in athletic (and artistic) success: genius, the magic that is left over after you subtract all of that awesome effort. In fact, paradoxically, effortlessness is what precisely we admire about it, as Marina Hyde points out today. While we are moved by striving, we fall in love with seemingly superhuman genius.
It's why we respect Blake, but delight in Bolt. It's why Roger Federer will always be the greatest. It's why Michael Phelps exists on a different plane to everyone else (someone remarked the other day that now he's performed in his last competitive race, he can be released back into the sea).
It's become a truism that the supremely successful aren't just born lucky, but make their own success. They put in their 10,000 hours. This story is comforting because it reassures us that beneath the elitism there is a democratic principle at work. And of course, it's true - it's a truism - that genius is 99% perspiration and 1% inspiration.
But the 1% matters.