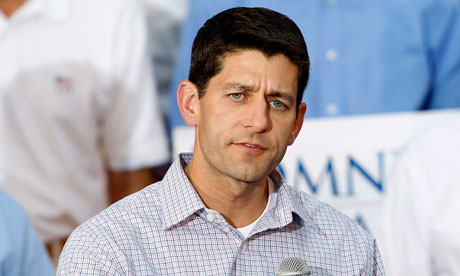 Photograph: Kamil Krzaczynski/EPAP
Now that the dust has settled just a little, it's possible to draw some lines in it.
Ryan's entry marks the start of the general election (at least for the media). So far it's been a dull old election year, certainly by comparison with 2008. The polls have been deadlocked, with Obama hanging on to a very narrow lead. Romney has said or done very little of any interest, apparently happy to wait for the economy to deteriorate and for the electorate to wake up and blame the incumbent. Much of the action - certainly, the spending - has been taking place under the radar in swing states. Other than the occasional skirmish there have been no major flash-points.
Well, things just got interesting. Romney's choice of VP brings this contest to life. Superficially, the effect is similar to that of John McCain's pick of Palin in 2008 - VP pick as big, controversial and galvanising event. But underneath that, it's different, and more important.
McCain's choice generated masses of publicity but didn't fundamentally change the race, because Palin, for all her pizazz, was an empty vessel in political terms. Romney's, however, represents a profound strategic decision (whether he views it that way or not). It changes the direction of his campaign, and thus the shape of the election.
Paul Ryan is different from Palin, and just about every previous VP pick, because he brings a whole political platform with him. He has spent years developing his "Roadmap for America", a comprehensive fiscal programme, and marketing it - with enormous success - to his party. Such was Ryan's success in getting his party to endorse the Roadmap that Romney was already tied to it by proxy even before he chose his running mate.
Prior to Ryan, the Democrats were hoping to pin the Roadmap on Romney, because it includes sweeping cuts to welfare programmes that are very popular with a lot of voters, including seniors, who tend to turn up and vote. The Obama campaign can hardly believe Romney has effectively said, "No, please, allow me," and pinned it on himself.
So why did Romney do it? I think there are two likely reasons, not mutually exclusive. The first is strategic. Romney may have come to feel that his existing gameplan - sit tight and wait for something to turn down - wasn't going to do it. He felt he needed to be bolder, and choosing Ryan is nothing if not bold. Second, he seems to feel vastly more at ease with Ryan than any other potential candidate for the role. They've spent quite a bit of time together over the past year and every account of their relationship emphasises its warmth.
It's not hard to see why: they're both highly driven, data-hungry policy geeks (you can imagine a less ideological version of Ryan working for Romney at Bain) with large, sprawling families. Ryan has more of a passion for political philosophy than Romney, who thinks of himself as a pragmatic problem-solver, and despite talk of a 'father-son' relationship I have a feeling that Romney sees Ryan as his political and policy mentor rather than the other way around. (This is of course an oddity in itself - the ideologue is traditionally top of the ticket, the fixer his deputy. As I've remarked, Romney is essentially hiring a political vision, the very act of which demeans him.)
Will it work? Let's put it this way: the downside risks are much larger than the upside ones, as even most experienced Republicans recognise. For it to work, the normal rules of politics will have to be turned upside down, and in particular the rule that says you don't go into an election threatening to cut the benefits of your most important voters (click here to see what I mean). Perhaps such voters will see the light and revolt en masse against big government, sacrificing their own comforts in the process. Or, you know, not.
The fundamental problem for the Republicans is summed up nicely by the perspicacious conservative commentator David Frum: "Romney has transformed a campaign about jobs and growth into a campaign about entitlements and Medicare." By choosing Ryan, Romney has shifted the campaign on to the home turf of the Democrats, and away from his own natural territory - and Obama's biggest vulnerability - the economy.
Romney and Ryan are two clever men. But this decision is likely to prove, in the terms of James Carville's legendary motto, stupid.
(Ross Douthat, another sane conservative pundit - there are a few - has a thoughtful take on Romney-Ryan, worth reading.)