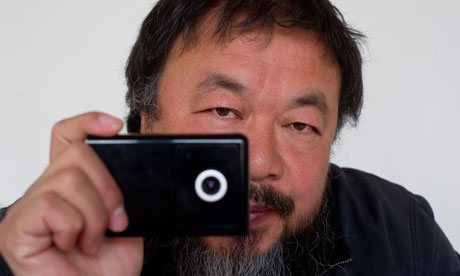 Photo: Ed Jones/AFP/Getty
I came across this story (which I hadn't heard until now) in a short piece about the nature of freedom, by the brilliant Sarah Bakewell, author of one of my favourite books of the past couple of years:
Over the last week I found myself thinking of De Maistre in relation to two recent cases. Both are of artists trying to outwit their governments; both do it with Xavieresque wit and grace.
One is Ai Weiwei, who responded to surveillance of his Beijing home and studio by announcing he would himself install four webcams, to transmit his every move while he works, sleeps and lives. His supporters could see that he was OK, while for the government it was a "gift". If they watched his webcams, though, they would be doing it alongside his fans and at his own generous invitation. By opening the scene of his confinement to the world, he was making it an artwork and a means of flight. His "beast" is pinned down, but his soul runs off laughing. It is a measure of how subversive the project was that he was ordered to switch the cameras off.
Read the whole thing: it's certainly a cut above the usual op-ed fodder.