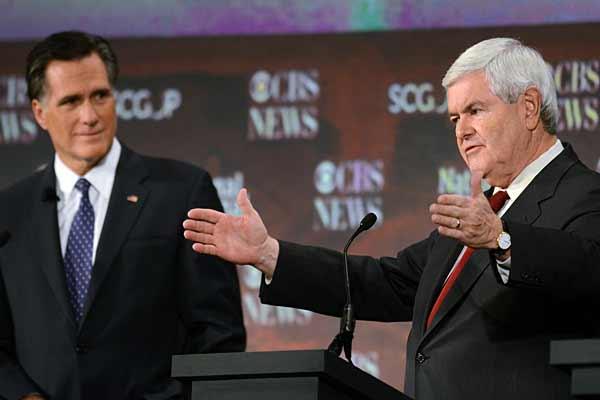 This week, U.S election-watchers are rubbing their eyes, shaking their heads, slapping their faces. They can't believe it, but it's true: Newt Gingrich is the front-runner for the Republican nomination. He is topping national polls and has an eight-point lead in Iowa, a month before the caucuses.
I still think the chances are high that he will self-destruct, but the lateness of his surge gives him a good chance of riding it all the way. With typical modesty, Gingrich himself has declared that he will be the nominee. I wouldn't be entirely surprised if, this week or next, he calls for the party to cancel the primaries and nominate him by acclamation, for the good of the country. 
Spare a thought for Mitt Romney. He has planned longer, spent more, worked harder than any other candidate. He has been the most impressive participant in every debate so far, and by some way. He is, by any objective measure, the candidate most likely to beat Obama in the general. He must have hoped and expected that by now the Republicans would have overcome their doubts and consolidated around him. Instead, they chase after every implausible alternative and absolutely refuse to accept him as their standard-bearer.
The danger for his campaign now is that he starts to resent the whole thankless process, and lets it show. I think you can see the signs of that in this teeth-grindingly bad interview with the excellent Bret Baier of Fox News (scroll down for a sampler). It's a reminder of everything least likeable about Romney: his icy assumption of superiority, his petulance, his robo-pol persona. Above all, he seems impatient. Romney can't believe that he hasn't sealed the deal, and he blames everyone but himself.
Let's also imagine what the Obama camp is thinking: something along the lines of Yay! It's looking increasingly likely that the GOP will nominate either a very damaged Romney or a verging-on-unelectable Gingrich. A president who would otherwise be in very deep trouble might be saved by his opponents.
Iowa is a key swing state in the general election, and though it went for Obama last time around he is much more unpopular there this year. The same poll showing Gingrich ahead there also found that Obama's approval rating is underwater. Yet (with the odd exception of that anomaly, Ron Paul) Obama is leading all the GOP challengers in hypothetical match-ups. He leads Romney by seven, and Gingrich by ten.
And there, in a nutshell, is what may be the story of 2012.