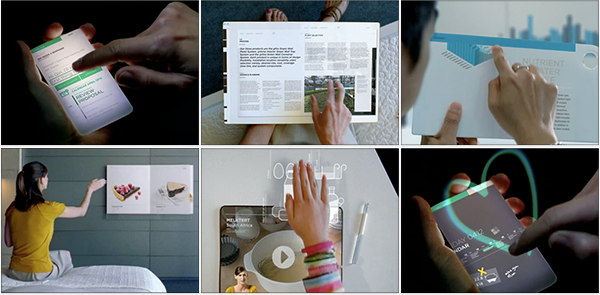 Image via Bret Victor
Edward Tufte, author of this classic book, is the world's foremost expert on information design, and always fascinating to read or listen to.
He's composed a short but perfectly-formed essay on the iPhone as a physical object. It follows on from this wonderful blog post by Bret Victor on the trouble with touchscreens, one of my favourite pieces of the year.
Tufte has caused me to reflect upon something about which I'd only been half-aware: my iPhone 4 feels like a hostile object. Its sharp edges dig into the palm of my hand. That subsconsciously affects my whole relationship with it. It feels cold, affectless, unloveable. Here's Tufte:
There is no such hand in touchscreen computer devices. The touchscreen has no texture variation, has no physical surface information, is dead flat, reflects ambient light noise, and features oily fingerprint debris when seen at a raking angle. Also the elegant sharp edges that encase many touchscreens require users to desensitize their hands in order to ignore the physical discomfort produced by the aggressive edges. Last year in Cupertino, I yelled at some people about touchscreens that paid precise attention to finger touches from the user but not to how the device in turn touches the hands of the user (and produces divot edge-lines in the flesh).
What Tufte is writing about isn't just about the iPhone but the whole new category of handheld devices and screens that has sprung up in the last twenty years. Their functionality is way out ahead of their human qualities - of the way they feel. Perhaps one day we'll design a digital device that feels as good as a book.
Tufte again:
So instead let us give more time for doing physical things in the real world and less time for staring at (and touching) the glowing flat rectangle.
Plant a plant, walk the dogs, read a real book, go to the opera.