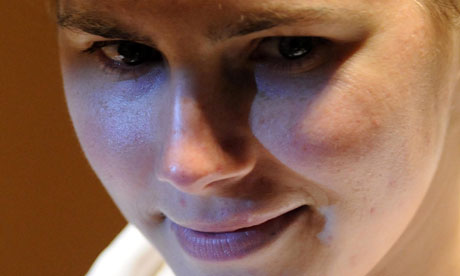 Photograph: PIETRO CROCCHIONI/EPA
I have a piece in the Guardian today on the story of Amanda Knox and what it tells us about ourselves. Although my piece doesn't focus on the Italian police's sexualising of Knox, that it is certainly one of the most remarkable aspects of the story. An excellent Rolling Stone account of the case contains the following eyepopping anecdote, which of course tells you far more about the role of femininity in the Italian male psyche than it does about Knox:
(A)n older male detective claimed that, upon returning with detectives to the murder scene, Knox had spontaneously broken into a seductive, hip-rolling dance, popularized in old Italian sex comedies, called La Mossa. Knox, the detective claimed, had shimmied her hips like Monica Vitti, shouting "Hoopla!"
Link to Rolling Stone story.