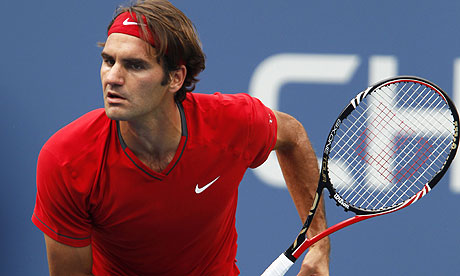 Tonight's US Open final will feature the two best players in the world - and no Roger Federer, something that The Fed himself can't quite get over. Here he is after losing to Djokovic in the semi-final:
"It's awkward having to explain this loss," a tetchy Federer said, "because I feel like I should be doing the other press conference."
He went on to be quite mean-spirited about the manner in which Djokovic beat him. (It's notable that Federer - of whom I'm a huge fan - won his reputation for being a gentleman during the years he was winning everything; now that he's losing more often, an interestingly bitchy side of his personality is coming to the fore). The key turning point in the match came down to a fascinating quirk of sports psychology - although top athletes are the ones who care most about winning, sometimes they can perform better at the precise moment they decide not to care.
Federer's beef with Djokovic turned on the match point that the latter saved by making an extraordinary forehand shot that he seemed to hit without really thinking it would go in - and yet somehow it did. From the Guardian's report:
Asked about the quite remarkable forehand winner Djokovic hit to save match point, Federer reckoned the Serb did not look at that point like someone "who believes much anymore in winning. To lose against someone like that, it's very disappointing, because you feel like he was mentally out of it already. Just gets the lucky shot at the end, and off you go." ...
Federer was reluctant to give him credit even for that courage in a crisis, preferring to regard it as desperate. "Confidence? Are you kidding me?" he said when it was put to him the cross-court forehand off his first serve...was either a function of luck or confidence. "I mean, please. Some players grow up and play like that – being down 5-2 in the third, and they all just start slapping shots. I never played that way. I believe hard work's going to pay off, because early on maybe I didn't always work at my hardest. For me, this is very hard to understand. How can you play a shot like that on match point? Maybe he's been doing it for 20 years, so for him it was very normal. You've got to ask him."
Well, they did ask him. Here's what Djokovic said about it:
"Yeah, I tend to do that on match points," he said, reminded that it was exactly what he did to Federer last year. "It kinda works."
When people discuss Federer's decline it's invariably in terms of his age - he's 30. What's interesting about his form, though, isn't so much that he's slowing down physically - he had match points in the fifth set of this match and played some brilliant tennis during it - but that he's lost the mental edge that enabled him to steamroller opponents on the crucial points. He's become a choker. As the neuroscience writer Jonah Lehrer has discussed, choking usually results from over-thinking about a shot that should be peformed unthinkingly, thus losing the fluidity of movement needed for great play.
Perhaps the reason Federer is so exercised about Djokovic's forehand winner is that his opponent was clearly doing the complete opposite to him - he was deliberately under-thinking his shot in order to give himself the kind of liberating looseness that might just produce magic. Djokovic was being strategically careless. And guess what - it kinda worked.
UPDATE: Nate Silver has done a fascinating statistical analysis of Federer's chances of winning another Grand Slam.